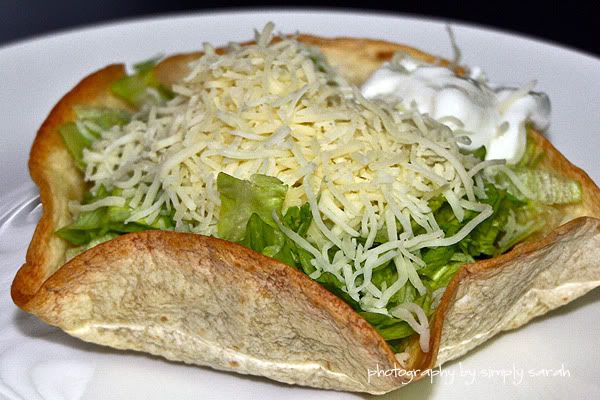 I love eating Taco Salads at my local Mexican restaurant, so I knew I had to figure out how to make them at home. I have previously purchased the little premade bowls, but those never tasted anywhere near as good as a the restaurants. I've also seen the take-and-bake type bowls that you can buy the come with a baking form for the bowls, but those are expensive for what you get. I wanted to make my own, so I did. And they tasted FABULOUS.
Beef Taco Salads
Ingredients:
4-5
Fajita Size Flour Tortillas
A few drops of
Olive Oil
Cooking Spray
(optional)
1 lb. lean ground beef
1 can
black beans
(not drained)
2 cups shredded lettuce
1 cup diced tomatoes (if desired)
1 cup of shredded Mexican blend cheese
1/2 pkg of
taco seasoning
Sour Cream (optional, but I like the fat-free version)
Instructions:
#1- Preheat oven to 400 degrees Farhenheit
#2- Brown and drain Meat
#3- Return meat to pan, add undrained can of black beans and 1/2 pkg of taco seasoning to the meat.
#4- Bring to a quick boil, immediately turn down heat to low, and simmer with the lid on stirring occasionally until bowls are ready.
#5- In a pie plate (or other shallow dish), barely fill bottom with warm water and add a few drops of olive oil. Dip both sides of each tortilla into the oil/water mix and place on paper towels to drain.
#6. Place the moist tortillas over a oven safe
dessert dishes
(or make
aluminum foil
balls). I sit my dessert dishes in on a cookie sheet. Gently pinch the tortilla sides 5 times to give them the classic pointy bowl look.
#7. Bake the tortillas for about 5-6 minutes.
#8. Carefully take them off the dessert dishes and place them directly on the
cookie sheet
with the bowl side upwards. Spray the edges of your tortilla bowl with cooking spray if you want to achieve that brown edge look.
#9. Place back in oven and bake another 4-5 minutes.
#10. Spoon meat/bean mixture, lettuce, tomatoes, cheese, and any other toppings into the bowl. Garnish with sour cream.
Voila! Homemade Yummy Taco Salads!
Another variation:
Instead of using beef, you could use chicken and replace the black beans with green chilies!