So a few weeks ago, CSN Stores contacted me about doing a product review. CSN Stores have everything you can think of from kitchen electrics to lighting (which I did a post on- HERE). I searched and searched their site for what I wanted to review. I asked D and he ultimately is the one who decided what I would review, a Belgian Waffle Maker
.
On cruises, we both love the Belgian waffles. Frozen Eggos just have nothing on them. He finally convinced me that we could have cruise ship gourmet breakfasts at home....and that sold me!
I looked around for previous users reviews and the Chef's Choice Belgian Waffle Maker
because it had really good reviews.
It came in the mail about a week later, so then it was time to whip up some waffle mix. I really had intended on using a premade waffle/pancake mix, but discovered we only had enough to make 1 waffle....so on to Plan B. Make my own mix. Here's my recipe:
Waffle Cone Belgian Waffles
(waffles just a little sweet like waffles cones....just like they make on the cruise)
Ingredients:
- 5 Tbsps of butter, melted
- 2 cups all-purpose flour
Directions:

1. Preheat the Waffle Iron
2. Mix all the dry ingredients together
3. Mix the wet ingredients together
4. Mix the wet and dry together....lol :)
5. Place 1/4 cup on your waffle iron and cook according to your irons directions.
That last part is important...1/4 cup only. The first waffle I made I used 1/2 cup, and this is what I ended up with.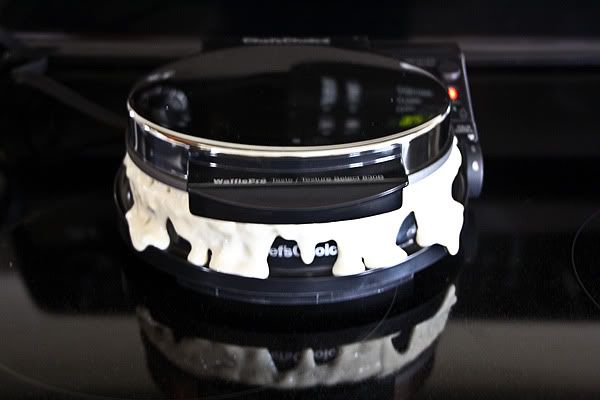 So stick with 1/4 cup poured right in the center of the waffle iron and your waffles will be perfect-o. So this waffle iron has 10 heat seatings and 2 different cook settings. One setting for crisp exterior and moist interior and and a second setting for uniform cooking. The first few we cooked using the crisp exterior and moist interior setting...and they were pretty good. The last two we cooked, we used the uniform setting...and they turned out fabulous. Here's a pic of the last one.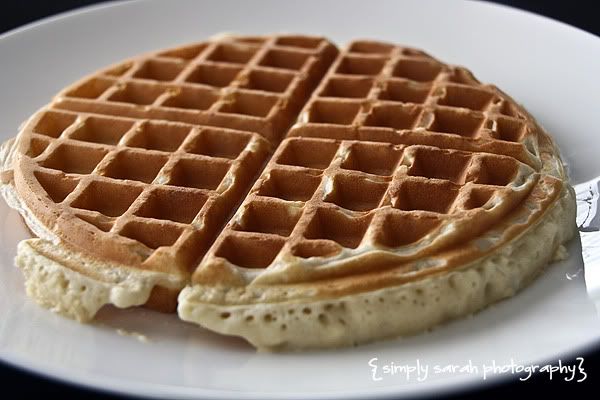 Happy Waffle Making!