So we're finally actually trying to decorate our house. It's been almost 5 years, since I drew a pic of the house and we JUST hung it in the entryway about 2 weeks ago! I know, I know....ridiculous. But now, we are actually taking the initiative to do stuff...buy furniture, hang pictures, decorate ledges, and look at upgrading our
lighting
. We waited til we knew what things we liked, what would last, and most importantly til we could pay cash for it that day. Now that we're making progress I need some help with a few areas...lighting and wall decor.

We have several spaces that really need new
lighting
, but two of the spaces are SUPER bare and need
lighting
extra extra bad.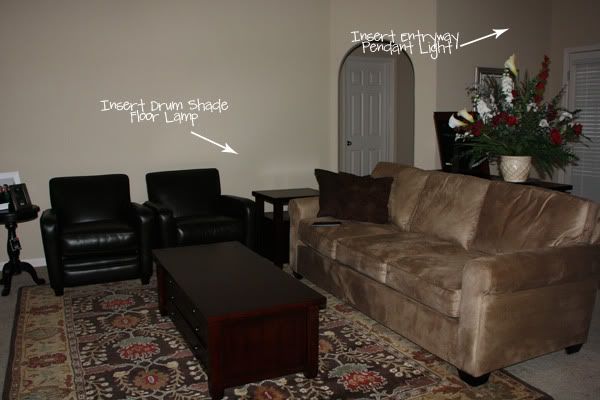 First off, we need new lighting in our den (pictured above with our new furniture). We bought a new ceiling fan a few weeks ago that D put in. We still need floor/table lamps for the seating area. We really like the look of having a floor lamp sitting behind the side table with an arm coming over the side table. It really would create a big impact which is needed along that big massive (and empty, yes I know...wall decor at some point!) wall.

This lamp by Kenroy Home available at CSNLighting fits the bill.

I am still not 100% sure what to do with the big massive empty wall.
I really like this Eagan Mirror from PotteryBarn....
but I could NEVER swallow that PB price. Anyone have a suggestion for me??

We also need a new lighting fixture for the entryway. You can barely see the entryway in the picture, so you can't see the light we have right now (on purpose, I think so. heehee). Trust me, it needs replacing. So we are thinking a brushed nickel/pewter pendant type light with some glass or frosted glass which tie in to our kitchen table light (which you can also see from this room because of the open floor plan).
Some thing like this one by Maxim Lighting at CSN Lighting would work.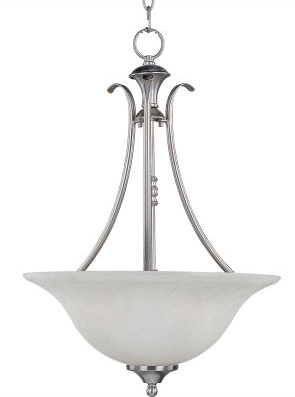 The other space that needs new lighting is the dining room.

(Note: Please ignor the ladder and random wall decor leaning on the wall.) We've never had any type of chandelier in there. Actually, the light fixture that we have in the entryway is the exact same fixture in the dining room. Yes...I know...strange. But actually before we started updating things in our house, the entryway, the dining room, our master bedroom, and one of the guest bedrooms ALL had that same icky, builder grade basic light. So now the dining room is ready for chandelier (and a ton of other goodies...yes, it's bare in there). We were thinking the a drum shade chandelier that coordinated with the drum shade floor lamp in the den would be a great fit. It would keep the rooms flowing well which is key since we have an open floor plan.


I really, really love the look of this one by Robert Abbey at CSN Lighting.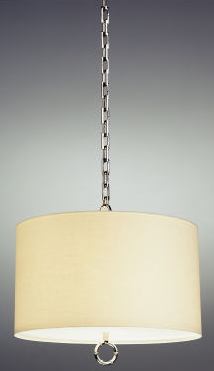 That specific one is pretty pricey, but I will find a similar one at a better price.
Also, on those big empty walls I'm thinking some sort of shelving or book shelves that would provide storage for my fancy, schamacy dishes (that have been used once I think) and provide a place to display some pretty dishes too. Maybe something like this from Overstock...
This would give some storage underneath and display room on top. Could also double as a small buffet if we needed...which would be cool. Love multipurpose stuff. Or I could contact paper to "frost" the glass on the front of these and then they wouldn't even have to be orderly...lol. Then maybe put mirrors over the top or something...I dunno. Anyone have any ideas for those walls?
I'll keep you posted on our progress...and eventually, maybe we'll do a big redecorating (or decorating for the first time) reveal. :)