After seeing the Red Velvet Brownies from the December issue of Southern Living, I decided I needed to make my own for a family Christmas gathering. Their original recipe and instructions is
HERE
. Below is how I very,very slightly modified the ingredients and my pictures of how nicely they turned out.
(i know this is a horrible picture of my ingredients, but its the only one I took....so we deal with it...lol)
Brownies Ingredients:
4 oz. bittersweet baking chocolate
(I used a Ghiradhelli bar)
3/4 cup of salted butter, plus 1 Tbsp of softened butter to grease pan
1 tsp of baking powder
1 tsp of vanilla
2 cups of sugar
4 large eggs
1.5 cups of flour
1 oz. red food coloring
(or other holiday/team color, if desired)
Small-Batch Cream Cheese Frosting Ingredients:
a little less than 8 oz of cream cheese or neufchatel cheese
1 tsp vanilla
3 Tbsp softened, salted butter
(or add a little a pinch of salt if unsalted)
2 cups powdered sugar
Colored Sprinkles to match holiday, if desired
(I used green and red sprinkles for Christmas)
Brownies Instructions:
1. Preheat oven to 350°. Line bottom and sides of a 9-inch square pan (I used a glass pan and it seemed to cook the brownies just a bit faster) with aluminum foil, allowing 2 to 3 inches to extend over sides as handles; lightly grease foil with softened butter.
2. Microwave chocolate and butter in a large microwave-safe bowl at HIGH 1 1/2 to 2 minutes or until melted and smooth, stirring at 30-second intervals. Whisk in sugar. Add eggs, 1 at a time, whisking just until blended after each addition. Gently stir in flour, baking powder, food coloring and vanilla. Pour mixture into prepared pan.
3. Bake at 350° for 40 minutes or until a wooden pick inserted in center comes out with a few moist crumbs. Cool completely on a wire rack for 30 minutes, then in refrigerator for 30 minutes.
4. Lift brownies from pan, using foil sides as handles; gently remove foil. Spread Small-Batch Cream Cheese Frosting on top of brownies, Top with Sprinkles if desired, and cut into 16 squares.
Small-Batch Cream Cheese Frosting Instructions:
Beat cream cheese, vanilla, and butter at medium speed until creamy. Gradually add powdered sugar, beating on low speed until blended.Refrigerate until brownies are cooled and ready to be iced.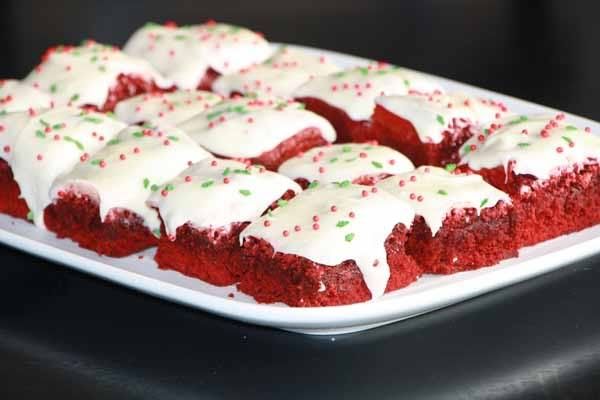 These turned out beautifully and were scrumptious. I would also make these using different colors of food coloring and sprinkles for various other occasions and holidays. Think green for Saint Patty's Day with green sprinkles, Red with Blue Sprinkles for 4th of July, etc. Let me know if you try this with any different color combos! I'd love to see how they turn out.