We, like every other household, have a buncha "stuff" that we come in the door with and lay on the counter. Well, I decided it was time to do away with the clutter. We have a weird entry way from the garage though (which is the one we use all the time) and I knew I couldn't fit much there. From the kitchen to the garage door its about 4 feet long by 4 feet wide portion first and then curves to another 4 feet long by 4 feet wide to where the door to the garage and laundry are located. I really wanted to try to fit something in that weirdly angled first 4x4 spot. So here's what I did...
The plan for the entryway message board didn't actually start out as a message board, but rather a mirror. I found this awesome, yet beat-up, scratched-up HUGE mirror on clearance at Old Time Pottery for around $10. My pup decided to pose with the dusty mirror I'd picked up. She's about foot tall, and my table it's leaning on is a counter height table, so that gives you an idea of the height of this mirror.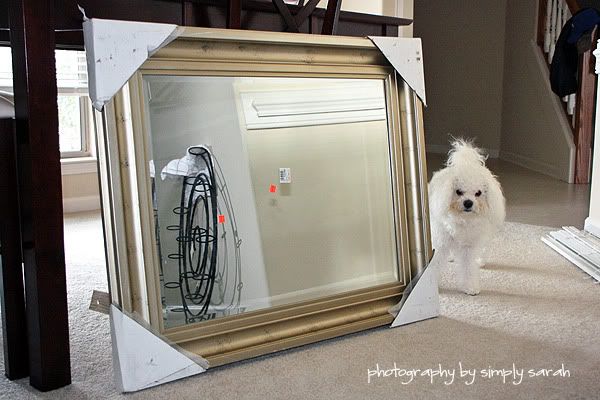 I thought I could get the rubs off the mirror itself and just paint the frame of the mirror. I first covered up the mirror itself with papers and painters tape and gave the frame a quick rub down with a cloth since it was pretty dusty. You can see the scratches in the frame in the pic below. You can also see how thick and gorgeous it was for $10.
I gave it a few light coats of Valspar Satin Black Indoor Spray Paint (which is fairly cheap), so the frame was lookin' good.When it was dry, I pulled the papers off and began cleaning the mirror. I used a Mr. Clean Magic Eraser on it only to reveal the rubs weren't paint from another mirror rubbing on it, but actually scratches in the surface of the mirror. Since I couldn't use the mirror itself, it was time for Plan B. (Which I ended up liking more than Plan A.) I LOVE LOVE LOVED these huge framed cork message boards from
Pottery Barn
.
But of course, I wasn't forkin' over that much cash for a corkboard! No way, Jose! In my garage, I had an old, big wall corkboard from the 90s that my brother had given me. I no longer used it because well, lets face it...it was very 90s-ish (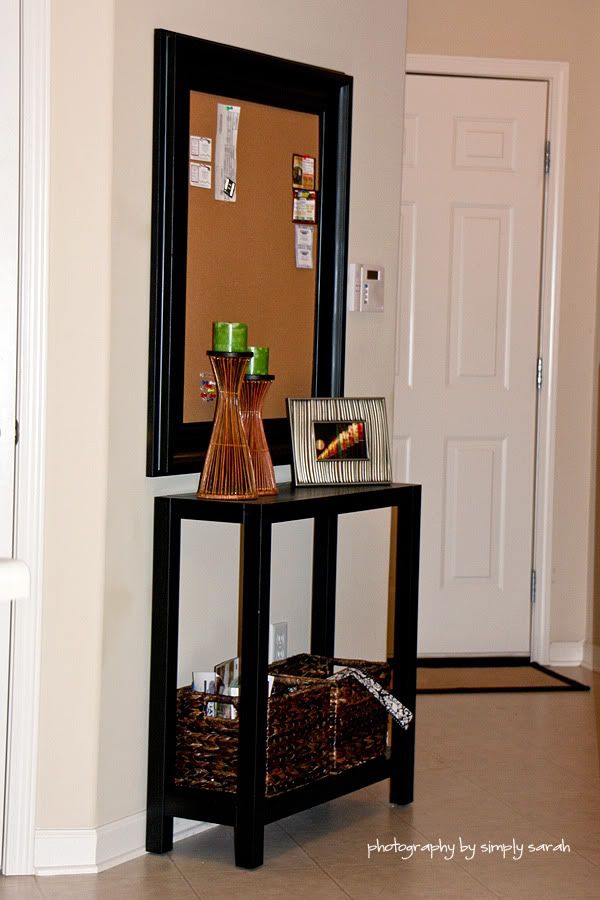 I used an exacto knife to cut out the corkboard to fit the frame I'd painted. Then a few nails and staples into the backside later...and WA-LA! A framed corkboard!
I found that thin-width table and baskets to go underneath it. Together the corkboard and table cut back on all my counter clutter. We keep our keys, cell phones (and chargers), D's IPod, my camera (see my new Cotton Candy by Natalie strap hanging out!), etc in those baskets. Plus that corkboard keeps us from losing important stuffs or forgetting appointments. I think that my $10 version with it's thick frame looks MUCH MUCH nicer than the plain framed
PB version
and for $139 CHEAPER!
Wanna make your own, but don't have the supplies on hand? Don't worry, buying the supplies will be MUCH cheaper than the PB version. You can buy open face frames on the cheap at Michaels & Hobby Lobby (with their coupons, of course) and you can snag a roll of corkboard at those crafts store. You can also get the corkboard rolls online> HERE
.
I will be linking up to the following parties: