My favorite, favorite treat of the summer is
Ice Creams and Sorbets
.
I pretty much like all kinds of ice cream and Sorbets- Cookies&Cream, After Five, Neapolitan, Chocolate, Vanilla, Candy Bar, ALL fruit flavors of sorbet and on the list goes. My very favorite ice cream, however, cannot be bought in a store. Nope, my fave is homemade vanilla!
Now, you do need an ice cream freezer
to make this, but luckily I already had one
(this was a hope chest item I had and I will have to do a post on my hope chest...it was really a hope house..lol).
I have to say I LOVE my ice cream freezer
. I use it quite often in the summer. Here's the freezer I have:
It's a Cuisinart ICE-20
that makes 1.5 Quarts at a time. (Cuisinart does sell a double version of this freezer too called the ICE-40
.) It's so easy to use, easy to clean, and best of all requires no trips to the gas station for bags of ice. Just freeze the circle container ahead of time (we leave ours in the freezer at all times), pour ice cream batter into the container, pop on the mixer and lid, and hit the on button. VOILA! Ice Cream in about 20 minutes!
Simply Sarah's Homemade Vanilla Ice Cream:
Ingredients:

1.5 Tbsps of Vanilla
(hint: use good vanilla. it will taste better. my vanilla is from our last trip to Mexico.)
1. Pour Cream, Half&Half, and Vanilla into a mixing bowl
2. Begin stirring and slowly add sugar as your continue to stir until all sugar is blended
4. Pour into ice cream freezer and let'er go according your freezer instructions.
(if you have the freezer like me
just pour it in, turn'er on, and in about 20 minutes you've got ice cream!)
Below is a picture of my mix, just before I poured it in the freezer last night. The after picture is the one at the top of this post. Doesn't it look scrumptious?! And yes, that's my Mexican Vanilla. Anyone going to Mexico soon? It looks like I will need more soon at the rate I'm using this. :)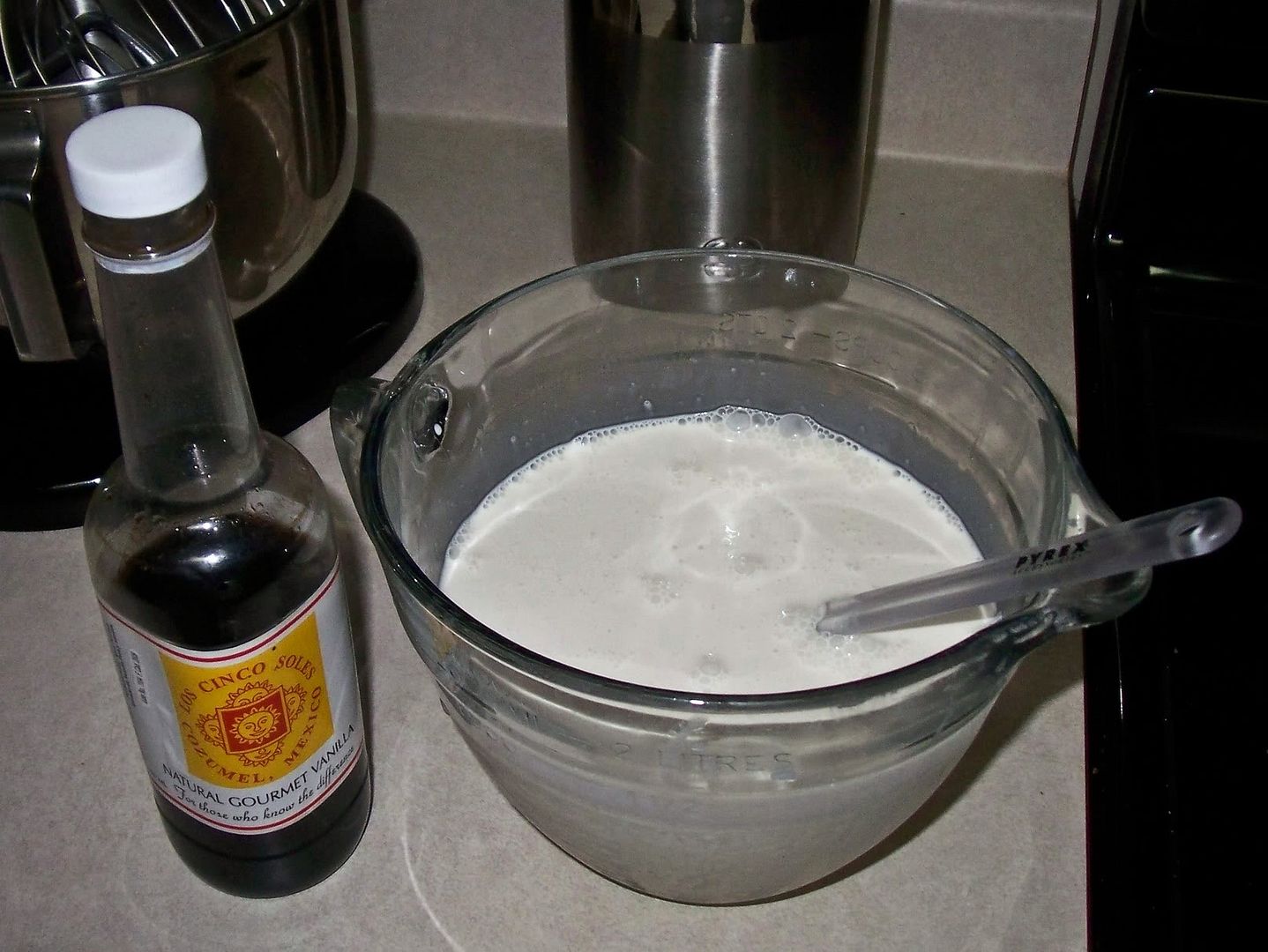 One of the best things about this recipe is that it can be modified to fit your taste and your waistline. This heavier version I listed above is my hubby and my dad's favorite. My favorite, however, is to cut the cream back to 1 cup, cut the half & half back to 1.5 cups, and then add in 2 cups of low-fat milk. I like the iced milk taste better
(my waistline appreciates this change too)

. :)