I am SOOOOOO loving
Kraft Foods
right now.
First off, this past week I discovered that I LOVE LOVE LOVE Kraft's Oscar Mayer Deli Fresh Oven Roasted Turkey. Man that stuff is SO good. I even ate sandwiches, made from that turkey, twice last week...and for dinner, nonetheless. Then also Friday, I got my KraftFirstTaste FREE pound of Oscar Mayer Turkey Bacon coupons in. So last night we had pancakes and bacon for dinner. And guess what? I really like Turkey Bacon!
Then Sunday Target and Kraft released a TON of Target/Kraft Coupons! See
HERE
.
Yesterday, I logged into my
KraftFirstTaste
account and I had an offer to receive the following 6 fabulous freebies:
Package of Kool-aid Fun Fizz Drink Drops (up to $2.49)
Oscar Mayer Deli Fresh Shaved Meats (up to $4.50)
Ritz Crackerfuls Filled Crackers (up to $3.49)
Kraft 100 Calorie Packs (up to $3.29)
Kraft Homestyle Deluxe Macaroni & Cheese Dinner (up to $3.99)
Digiorno Deep Dish Pizza (up to $3.30).
so if you have a KraftFirstTaste account, log in and see if you received that offer! If you're not a member then you better sign up. They give out AWESOME freebies!
And....to top it all off, I got my Kraft Foods Sampler pack chock full of FREE goodies for being a fan on facebook! It had Wheat Thins, FREE Hot Dog Coupon, FREE Bullseye BBQ Sauce Q, Coffee Samples and a $10 rebate off $30 of Kraft Products.
Here's the pic of those goodies: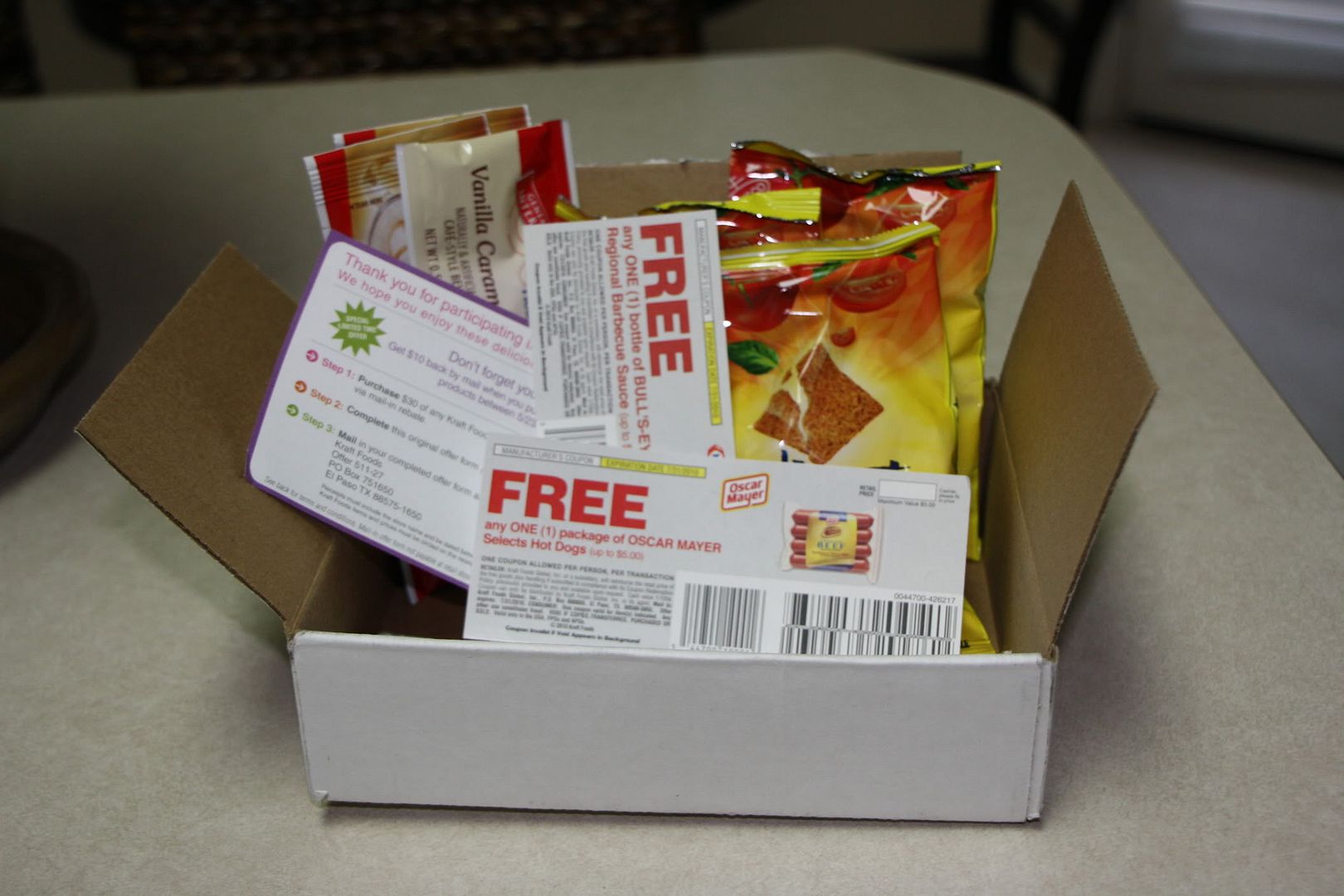 and no, I'm not a Kraft affliate (although I'd LOVE to be!) I just happen to really like Kraft and all their fab deals lately. :)